Inglewood Fine Art Gallery – Calgary – Hommage à l'immense talent de Charles Carson
Galerie Inglewood Fine Art, Calgary
Directeur, Michel Arseneau
Hommage à l'immense talent de Charles Carson.
Avocat de profession, j'ai une passion pour l'art qui a germé le jour que j'ai acheté mon premier « Carson » il y a près de 25 ans déjà.
Depuis ce jour, la passion que j'ai pour l'œuvre de Carson ne m'a jamais quitté. Au fils des ans, j'ai acquis d'autres de ses tableaux et j'ai suivi son ascension fulgurante sur la scène internationale avec grand intérêt. Je suis devenu sans contredit un adepte passionné de son œuvre et, lorsque j'ai déménagé à Calgary, je n'ai eu aucune hésitation d'accepter l'offre pour devenir son agent pour l'Ouest canadien.
Il y a quelque chose dans les tableaux Carsonisme qui va me chercher comme aucun autre artiste vivant n'est capable de le faire. La juxtaposition des couleurs, distribuées sur le canevas de sorte à relever l'âme cachée du sujet. La profondeur des formes et des figures, qui nous révèlent leurs secrets petits à petits même après plusieurs années et des centaines, voire des milliers, de regards.
Comment décrire ce mystère que je ne réussis pas à discerner dans les œuvres des autres artistes contemporains? Je ne serai pas aussi prétentieux pour vous parler de la forme d'écriture picturale unique de Charles Carson qui lui permet de se démarquer des autres. Je laisserai le soin aux experts et historiens en arts pour décortiquer cet aspect du talent remarquable de l'artiste. Je veux vous entretenir surtout sur l'aspect émotif qui fait en sorte que je ne me lasse jamais de regarder et admirer ses tableaux.
Prenons ces montagnes magistrales qui nous entourent. Je suis constamment émerveillé par leur beauté et la force qu'elles projettent. Depuis que j'habite Calgary, je nourris l'espoir d'entrer un jour dans une galerie et d'y trouver « le » tableau qui provoquera les mêmes émotions en moi que je ressens en randonnant ce magnifique paysage. Mais, hélas, malgré le talent indéniable des nombreux artistes qui dépeignent les Rocheuses, ces merveilles de la nature résistent à se faire capter sur une toile. Et voilà la différence avec Charles Carson…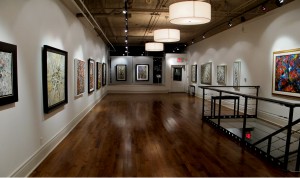 Il y a des artistes de grand talent qui réussissent à capter la beauté de ces montagnes, mais aucun d'entre eux ne réussissent à me faire frémir devant leur puissance comme c'est le cas lorsque j'admire un fond marin ou une scène d'automne dépeint par Carson.
Je pense qu'un artiste comme Carson, passé maître dans son art, l'est parce qu'il réussit à découvrir, à voir, à saisir, à transcrire, puis à communiquer sa vision du beau avec une rare sensibilité, une sensation presque épidermique, à fleur de peau. Son sens de la beauté, sa capacité à s'émouvoir devant des choses simples, parfois invisibles pour d'autres, font que Charles Carson perçoit la vie avec une acuité et une intensité telle qu'il peut ensuite embellir notre vision du monde.
English version
Honoring the immense talent of Charles Carson.

Being a lawyer by profession, I do not profess to be an expert in art. I do, however, have a passion for the arts that was born the day I bought my first "Carson" nearly 25 years ago already.
Since that day, the passion I have for Carson's work has never diminished. Over the years, I have added to my collection of Carson paintings and I have closely followed his meteoric rise on the international stage. I have become an impassioned fan of his work and it was therefore without a moment's hesitation that I accepted the offer to become his agent for Western Canada.
There is something in a Carsonisme  painting that moves me in a way no other living artist is able to do. The juxtaposition of colors, spread out on the canvas in such a manner as to unlock the soul of its subject. The depth of the forms and figures, that reveal their secrets little by little, even after many years and countless viewings.
How can I best describe that intangible element that I fail to discern in the works of other contemporary artists? I will not be so presumptuous as to attempt an analysis of Carson's unique pictorial writing that sets him apart from the others. I will leave it to the art experts and historians to explain that aspect of the artist's remarkable talent. Instead, I will attempt to describe how the artist's work touches me on an emotional level that never diminishes in intensity.
Take these majestic mountains that surround us.  I am constantly mesmerized by their beauty and power. Since having moved to Calgary, I live in hope of one day entering a gallery and finding "the" painting that makes me feel the way I feel when hiking in this beautiful setting. But, sad to say, I have yet to discover an artist who can capture the power of the Rockies on canvas. And therein lies the difference with Charles Carson…
There are a handful of gifted artists who have succeeded in capturing the beauty of these mountains, but none have made feel the immensity of their power the way I do when I contemplate an underwater scene or an autumn setting as depicted by Carson's brush.
Carson has mastered his art quite simply because he has managed, as few other contemporary artists before him, to capture and portray his vision of beauty with a rare sensitivity. His ability to be moved by simple things, often unnoticeable to others, has shaped Charles Carson to view life with such acuity and intensity that our vision of the world is embellished as a consequence.
VERSION EN FRANÇAIS

English version