Fine Art Magazine – Spring 2009 – USA – Page couverture – Charles Carson – Heroes of creativity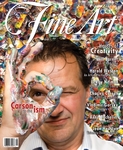 Fine Art Magazine – Spring 2009 – USA – Page couverture – Charles Carson – Heroes of creativity

Fine Art Magazine – Spring 2009 – USA
Charles Carson « Heroes of creativity »
CARSON TO THE ISM
By Jamie Ellin Forbes & Victor Bennett Forbes
Charles Carson has embraced his chosen mode of expression with the passion of a master, the nerve of an adventurer, and the intellect of a historian. Born in Montreal in 1957, he discovered his calling as he approached his teens. Frustrated at an early age with his own futile early attempts at originality, Carson went on a quest to find his vision — to Europe, Asia, the US and South America, living in his own dream fueled by the sea, forests and wildlife and by his lofty personal ideals. Carson was strong, is strong, but somewhere in Colombia, he found that even the strongest river cannot flow uphill. He became infatuated with the world's fragile beauty; indignant in the face of man's lack of conscience. It did not take him long to find out that the world was upside down, and when he discovered this, he sought to make it right. His brushstrokes on the canvas are akin to the soaring notes found in the best alto sax solos. May one dare say David Sanborn and John Coltrane in the same breath as Charles Carson?….history will decide that, but in his own time, M. Carson gives a vibrant tip of the hat to the incomparable mystery and uniqueness of life — all of which are reflected in his canvasses. A cool cat painting the world, he's reached his cruising speed and hit a rhythm he calls "more than hectic. It's a state of mind that propels me."
Charles Carson, as the innovator of his new pictorial language as motif is credited as father and founder of the art movement entitled "Carsonism." He is a nature lover and environmentalist who reflects and incorporates his ingenious view, as affirmed universal metaphor, in his personal lens of vision. The artist demonstrates Nature, as filtered through his imagination, deploying a creative extrapolation of evocative image. His works, being widely collected, attest to their appeal. Carson's auction record at esteemed houses suggest that. He shares his passion on canvas to inspire others to see what he has found in expressing the creative beauty abundantly surrounding all.
In 1997, noted art expert, Caroline Bruens, founder of the Académie Internationale des Beaux-Arts du Québec, says it this way: "Carson takes his models and dips them in a bath of light, giving them back their original essence, allowing them to reach through this luminous, colorful, multidimensional fog-like atmosphere. In viewing Carson's artistry, we find ourselves confronted by universal landscapes, with an open invitation to visit a new and unexpected galaxy of vibrant colors."
Finding his passion for painting in 1970, Charles Carson began to work within traditional motifs, gaining inspiration from his environment. These first works were figurative. He found in the end, however, they were inhibited and unsatisfactory in stating his own artistic needs. On the journey to create his own approach, abstract and figurative gestures were combined. This technique, along with his unique depiction of pictorial image as written universal glyph, rapidly affirmed his creative vision as a talent distancing himself from other stylistically know motifs.
It would seem that Kandinsky's words from his immortal little book, The Spiritual in Art, published in 1910 ("The boldness of color in a painting must attract the spectator forcefully and at the same time mask the deeper content.") left a lasting impression on the young artist. The impact of his colors were developed in Colombia and other tropical vistas, far away from the winter of his youth — those endless nights where different shapes haunted his compositions, giving them a certain presence of dimensionality. In those cold days, he learned to focus on that hidden dynamic which so energizes his work. He paints in movement with a technique and energy appropriated from masterful predecessors. Some would cite Mondrian, Jackson Pollock, van Gogh. Those legendary figures have accomplished everything, but not even Picasso had an art movement named for him, yet we have Carsonism.
This term was coined by a noted critic who was quite impressed not only with the work, but with the sheer volume of intense paintings produced by the one young man. Lise Grondines, art historian and graduate of the Paris Académie française des sciences et des lettres, past president of the Salon International des Beaux-Arts de Montréal in 2002 told the artist "Carsonism places you among avant-garde leaders on the Canadian and international art scene and can be considered key in global abstract contemporary art. Your paintings are refreshing, strongly executed and demonstrate a rare expression."
As an emerging artist, Carson participated in studio classes and attended seminars, ever-seeking to hone his sense of perfection to help him state a unique pictorial technique and artistic style reflective of his broad base of experience. His artistic pallate as a colorist incorporates both abstract and figurative vision in image allowing Carson's interpretive landscapes, marine scenes and still life works to be infused with an affirming passion, within the structure of a composition. Thus originality of Carson's artistic style was monogrammed "Carsonism" by critics.
Carson's travels were the impetus for his deeply affected feelings regarding the social and ecological problems of today's societies. Nature is now occupying a primary place in his creations, one of the major turning points in his work. His tropical scenes combine colors usually associated with a Caribbean sunset, yet he produces even greater depth and power than would seem conceivable from the paint. What technique manages to get such verve from color, and yet such detail? Again, it can only be described as "Carsonism."
Influenced through his admiration of van Gogh, Cézanne and Turner, at thirty-three, Carson spent time in Latin America where the spirit of inspiration gleaned from Columbian and other landscapes led him to a new personal era of expression through his imagery. Carson made a name for himself in Colombia, where he held numerous exhibitions and an amicable relationship with Botero . While many native artists left for Europe and America in search of fame and fortune, Carson found international recognition emanated from his stay in South America. The influence the painters, topography and people of Colombia exerted upon the young Carson, and the vibrant and ancient culture that he absorbed, informs much of his work today.
Charles Carson concentrates on the essentials of structure, the purity of forms, and transparency employing color. The assured tempo of his approach and style allows him an in-depth focus. He combines his mind's eye vision within observed landscapes or abstractions in compositions whose detailed color lends an aesthetic poetry to image. Depth of line is abstracted, by means of contrast between dark and light and or glyphic language motif alluding to collage or absolute abstraction of applied paint. The artist has gained a freedom of expression in his imagery through these various personal combinations, rooted in his classic rendering training.
Carson's colors are seemingly the primary element of his work. The entire surface of his canvas is covered with generous portions of paint originating from a very pure and contrasting palette. Intense, original and luminous, they imbue Carson's paintings with a distinct power as he continually defines new ways to imagine our world. "I see beyond the frontiers of art," he often says. "I seek to explore a language which is different, fresh and eminently imaginative; that will offer a breath of fresh air to whoever will discover it."
While brilliant gobs of oil paint fight for space on the artist's palatte, and ultimately the canvas, on further examination, more discrete imagery is revealed. Forms and figures are esoterically rendered and well-preserved, showing themselves to an interested viewer after a few moments of concentration. The color doesn't necessarily play with light, rather it creates the light. Then there is the very serious, less volatile portrait of an old man in bed and that one is all about the light. Which is the true Carson, or are they both merging?
In a mosaic technique work like Vibrations florales there is so much happening. How does one consolidate miniscule droplets of floral energy into such a complex solution of color? He is not revealing any secrets, any more than you would know if Pollock had a plan when he dripped all that paint, or if Vincent knew exactly where he was going when he produced the first star in Starry Night. No one can say for sure, but what Carson does share with the aforementioned artists is total devotion to painting. "Daily, faithful, obstinate, continuing to this day encompassing the discipline that art requires amidst the ups and downs of life." He works, more often than not, in complete solitude.
One of the more stunning images is the Christ. In the artist's case, it represents both the calmness the artist needs and a pictoral representation of spiritual and mystical fires continually rekindled which allow him to create such works as Parc Tayrona and The Crucifying of Christ. Is He rising or calling out in pain? His arms are outstretched, but there is no wooden cross. Is He emerging from fire, or is He rising to put out the fires in Hell? In this painting, Resurrection, He is victorious, as is Charles Carson, a very human artist accomplishing superhuman feats.
For further information and very interesting website, visit www.charlescarson.com