TRENDS – 121 Contemporary Artists – Charles Carson, reference : pages 96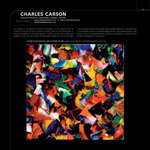 L'Azure étoilé reflète sur l'océan coloré. – Acrylics on canvas – (Mosaic technique) – 24 X 24 in. / 61 X 61 cm.

TRENDS – 121 Contemporary Artists
ISBN: 9789189685185
World of Art, London
EDITOR: PETRU RUSSU
Charles Carson
Lives and works in Laurentides, Quebec, Canada
According to Jacqueline de Torres, president of the Galerie d'art le Prieuré in France, the the art of Charles Carson points to the missing link in the Encyclopedia of Contemporary Art. « Charles Carson, the undisputed master of color and the creator of Carsonism, takes us on a trip through a fascinating universe of multiple and varying dimensions. The artist has a remarkable facility for dematerializing forms, and transporting us into a world that is being passionately observed, allowing us to discover the endless subtleties of « Carsonism ».