Brome Country News, Wednesday, May 2, 2007, Page 3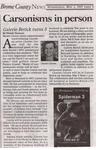 Brome Country News, Wednesday, May 2, 2007, Page 3

Brome Country News
Wednesday, May 2, 2007, Page 3
Carsonisms in person
Galerie Berick turns 5
By Wendy Denman
Brome Country News correspondent
Award-winning Canadian artist Charles Carson will be the honoured quest at Galerie Berick's fifth anniversary celebration this weekend. ''This is a very important event for me and for Estrie's art and culture,'' said gallery owner France Gravel. ''Many of our permanent artists will be here as well to meet Charles Carson and the public, and to help us celebrate this important event.''
Born in Montréal in 1957, Carson has devoted himself entirely to his art since 1983. He has participated in numerous international exhibitions – in the U.S., Europe, Asia, and South America, as well as living and painting for five years in Columbia while he collaborated with the major museum there.
His abstract art attracted the attention of art historians and consultants for his unique techniques, which a number of reviews have termed '' Carsonisms''. Carson is considered a master of colour by many, creating multiple dimensional universes on canvas.
Carson will be present on Saturday to discuss his art and show examples of his work. ''We are so proud. He has just won a Gold Medal in Paris for his art and we are very happy to have him here, ''said Gravel.
Among many awards, Carson has also won a Gold Medal at Montreal's International Salon of fine Arts. He is a member of the European Academy of Arts in France.
Weekend to celebrate five years in the business. We are having a silent auction of one of our guest's lithographs, paintings by 15 of our artists and six sculptures. We'll have door prizes and discounts on all our art and furniture.''
Galerie Berick showcases the handcrafted furniture of Bernard Lacasse in addition to featuring the works of local and Quebec artists, sculptors and jewelers. The gallery holds regular monthly exhibits in addition to its permanent displays.
Charles Carson will be at Galerie Berick on Saturday, May 5 from 1 p.m. The celebrations and auction continue all weekend at Galerie Berick (172 Adamsville St.) in Bromont.