Michel Arseneau, Inglewood Fine art Gallery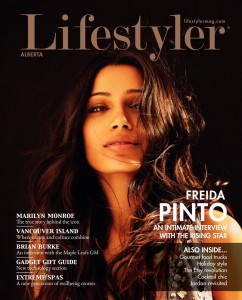 Lifestyler magazine, Calgary

Lifestyler magazine
Gallery Focus: Inglewood Fine Arts
Renowned artist Charles Carson's creative ingenuity is showcased at the Calgary gallery
By Veronica Boodhan | December 12, 2011
From the time he was just 14 years old, Charles Carson's passion for visual art inspired him to connect with audiences on as deep a level as possible. Acknowledging that abstract art does not always appeal to everyone, he strove to make it more accessible.
"To me, artistic expression is so much more than a trite gesture or a red dot on a black background. An artist who has something to say must surpass and reinvent himself," says Carson. "My profound desire is to bequeath a body of work that resonates with future generations."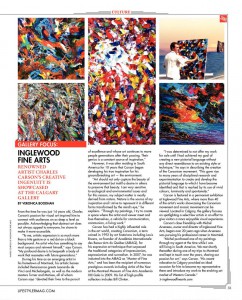 Lifestyler magazine, Calgary

During his time as an emerging artist in his hometown of Montreal, his artistic heroes included Renaissance greats Leonardo de Vinci and Michelangelo, as well as the modern masters Turner and Matisse, all of whom Carson says "devoted their lives to the pursuit of excellence and whose art continues to move people generations after their passing. Their genius is a constant source of inspiration."
However, it was after residing in South America for 10 years that Carson began developing his true inspiration for his groundbreaking art — the environment.
"Art should not only capture the beauty of the environment but instill a desire in others to preserve that beauty. I am very sensitive to ecological and environmental issues and for this reason, my subject matter is mostly derived from nature. Nature is the source of my inspiration and I strive to represent it in different forms transformed by the mind's eye," he explains. "Through my paintings, I try to create a space where the artist and viewer meet and lose themselves, a vehicle for communication, communion, a living work."
Carson has had a highly influential role in the art world, creating Carsonism, a term coined in 1992 by art historians including Louis Bruens, co-founder of Académie Internationale des Beaux-Arts du Québec (AIBAQ), for his expressive art technique that surpassed the traditional categories of impressionism, expressionism and surrealism. In 2007, he was inducted into the AIBAQas "Master of Fine Arts," and has been the recipient of numerous prestigious awards including Artist of the Year at the Montreal Museum of Fine Arts Academia XXI Gala in 2009. His list of high-profile collectors includes Bill Clinton.
"I was determined to not offer my work for sale until I had achieved my goal of creating a new pictorial language without any direct resemblance to an existing style or technique," he says in describing the creation of the Carsonism movement. "This gave rise to many years of disciplined research and experimentation to create and develop the pictorial language to which I have become identified and that is marked by its use of vivid colours, luminosity and spontaneity."
Carson is featured in a permanent exhibition at Inglewood Fine Arts, where more than 40 of the artist's works showcasing the Carsonism movement and mosaic movement can be viewed. Located in Calgary, the gallery focuses on spotlighting a select few artists in an effort to give visitors a more enjoyable visual experience.
Carson's close friendship with Michel Arseneau, owner and director of Inglewood Fine Arts, began over 20 years ago when Arseneau was pursuing his professional career in Montréal.
"Michel purchased one of my paintings through my agent at the time while I was still living in South America. We met shortly thereafter during one of my trips to Montreal and kept in touch over the years, sharing our passion for art," says Carson. "His recent relocation to Calgary provided an ideal occasion for him to become my representative there and introduce my work to the evolving art market of Western Canada."»
inglewoodfinearts.com